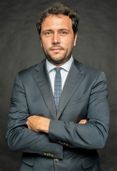 LexField expands investment funds capabilities with the appointment of Romain Bordage 


Luxembourg, 8 March 2021 – LexField announced that Romain Bordage has joined the firm as an Of Counsel specialised in both investment funds and regulatory matters. His arrival will expand LexField's advisory services for investment fund promoters, asset managers, financial institutions, professionals of the financial sector and insurers.
Romain Bordage has extensive experience in assisting clients on the set-up and structuring of Luxembourg investment funds, credit institutions, EU and non-EU branches, PSFs, management companies, AIFMs and securitization vehicles. He has advised leading international fund promoters and asset managers with the design, regulatory approval and distribution of Luxembourg alternative investment fund products (regulated and unregulated), including private equity, real estate, and infrastructure funds (RAIFs, SIFs, SICARs, Part II funds, SVs, SPFs, Soparfis). 
Romain also advises banks, professionals of the financial sector and insurers on the operational, corporate and regulatory aspects of their business. 
"Romain is a prominent addition to our team", said Partner Aldric Grosjean, head of the Private Equity practice, "he brings with him a strong track record on investment funds, credit institutions and PSFs set-up". His experience and advisory capabilities create numerous synergies with our Private Equity and M&A practices, which will be to the benefit of our clients."
Pierre-Yves Magerotte, Partner and head of the Private Wealth practice, added: "We are delighted to welcome such an experienced lawyer as Romain Bordage. He will play an important role in the firm's ongoing expansion of our offering for investment fund promoters, asset managers, financial institutions, professionals of the financial sector and insurers. His arrival also broadens our regulatory capabilities and attests the firm's continued growth." 
Romain Bordage commented: "LexField's excellent reputation and integrated approach will allow me to provide premium legal services to clients and help them achieve their strategic goals. I look forward to collaborating with my new colleagues in growing a successful practice".
About LexField
LexField is a Luxembourg independent business law firm focusing on private equity, private wealth, investment funds and M&A. Over the years, LexField has built a team of professionals who are committed to client satisfaction and share the same passion for excellence. Inspired by Luxembourg's architectural landscape, LexField has shaped its own identity and reflects a balance between tradition and modernity with one single aim - to go the extra mile for its clients.